It's that time again: our team is taking on the parasus Sports Challenge. The basic idea is simple but should have an impact on several levels. We motivate each other to exercise more in everyday life. It doesn't matter if it's jogging, hiking or swimming.
The time we spend on sporting activities is credited to a time account. Here, every minute of sports is converted into euros, similar to a charity run. With the collected money we support social aid projects. This way, we not only do something good for our health, but above all make a small contribution to a fairer world.
Small contributions for big changes
This concept has accompanied and inspired us since the founding of parasus GmbH. As a team, we look forward to setting ourselves rewarding goals every time. Knowing that through our commitment we can help where help is needed is what drives us at parasus.
Since support is urgently needed in many places around the world, it is not easy to choose a single project. Anyone who donates occasionally or regularly – or volunteers – knows this challenge.
By a happy coincidence, however, we became aware of a very special project at the beginning of this year that convinced us immediately. We are sure that we can contribute to creating a great added value. So we set ourselves a more ambitious goal than ever before:
"Let's finance the construction of a school!"
Why does an IT company finance a school building?
At parasus, we make use of the approaches of a Teal Company, among others. This means that we organise ourselves as employees and/or as a team. We can and should promote issues that are important to us personally.
This basic idea also forms the basis of our parasus Sports Challenge. This means that every employee can make suggestions regarding the projects supported.
I became aware of the organisation SONAFA e.V. through the student organisation Weitblick Münster.
The team and I immediately liked the idea of supporting SONAFA's work because what the association does in Benin in West Africa literally changes lives. The decision was therefore made quickly: SONAFA will build a school in Benin in 2023 with the parasus donations from 2022.

SONAFA e.V.: Empowerment through school education in Benin
Since 2003, SONAFA e.V. has been collecting donations to invest in the construction of schools in Benin, West Africa. This way, urgently needed schools have already been built in 37 villages, enabling children and young people to receive a nine-year school education.
Why is the association involved in Benin? In Benin, there are hardly any opportunities for schooling, especially in rural areas. Around 70 percent of the population is therefore illiterate. For the children and young people, SONAFA's work means an enormous opportunity for a self-determined future and creates perspectives.
At the same time, SONAFA sustainably promotes the local economy through its projects: Only local craftsmen are hired for the realisation of the schools. This approach makes the one-time financing by donors a sustainable investment in the sense of the local people: as soon as the basis is created, they can actively (further) shape it themselves.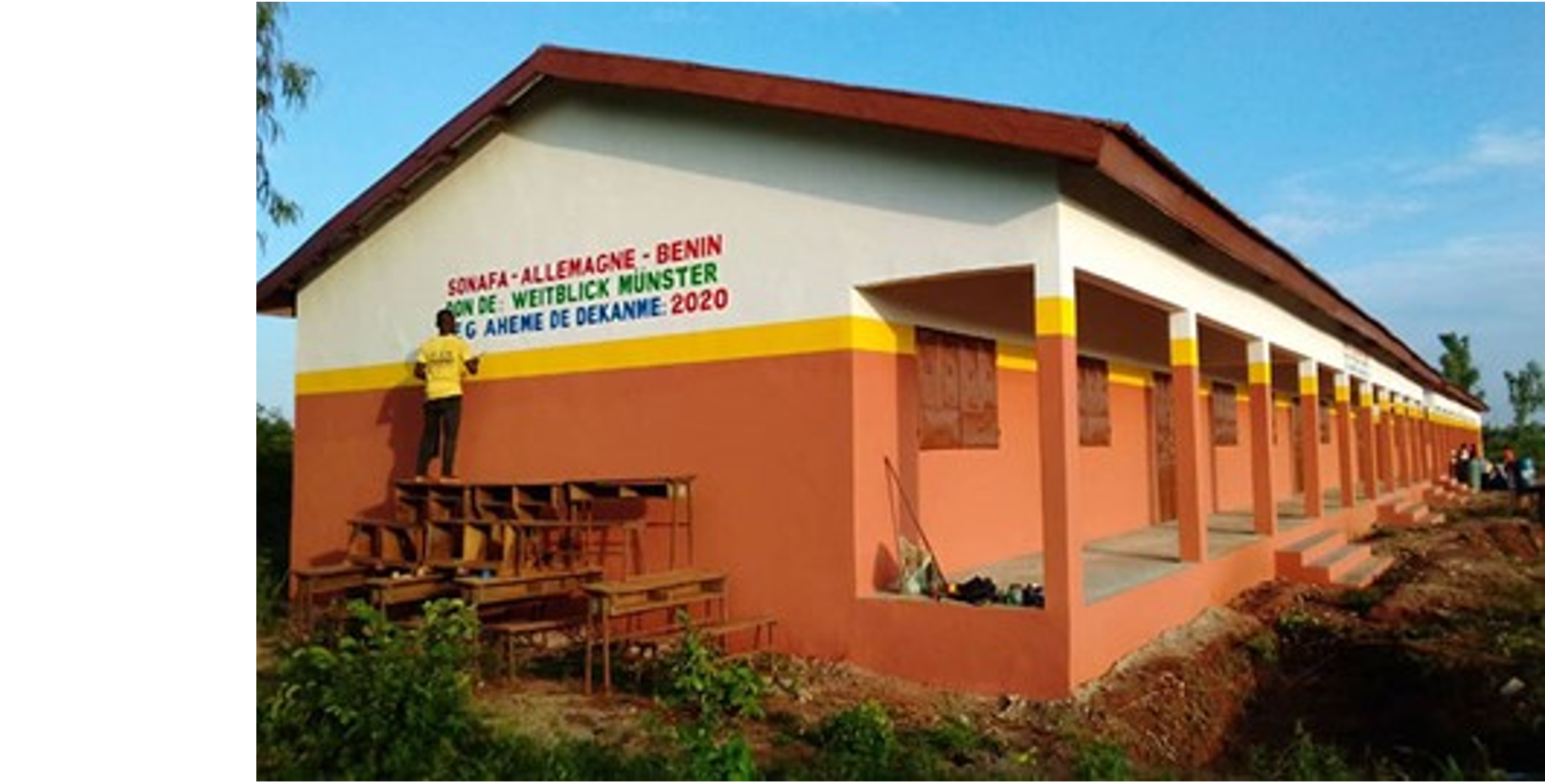 What will happen with the parasus Sports Challenge 2022?
In the past, we have supported various selected projects and organisations with our Sports Challenges. For example, we were able to donate to the people who were directly affected by the consequences of the floods in the Ahr valley. In another project, we provided financial support for an orphanage in the home village of our colleague Jagadeesh in Anantapur, India.
When we set out to finance the construction of a school in Benin, we had to reschedule a bit. Because the amount of money needed for this cannot be achieved with a single parasus Sports Challenge. Our plan is as follows:
We will complete five parasus Sports Challenges over a period of four weeks each in 2022.
Our target amount is a minimum of €19,000.
The entire amount will go to SONAFA e.V. so that the costs incurred for the construction of a school will be fully covered.
Weitblick Münster e.V. has already successfully implemented several similar projects and is therefore able to support us with experience and relevant tips. This helps us enormously, especially in the administrative context. We would like to take this opportunity to thank them for their support!
The starting signal has already been given, and we have an exciting time ahead of us. We would be delighted if you would accompany us on this extraordinary parasus Sports Challenge. Here on the blog and on social media we will keep you up to date on our work in Benin and our progress!
Thomas Lupton